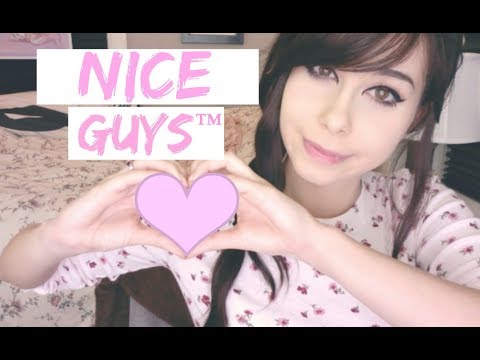 This is Shoe0nHead's latest video. I've got beef.
But let's start with the stuff that's not in dispute. Nobody is entitled to a romantic or sexual relationship with anyone else. Men and women both have a responsibility to avoid the "friend zone". I don't think anyone's going to argue against that. But there's an undercurrent of something really devious. in this video. I'm not sure if it's only how shallow it is in some ways, or if maybe there's something more malicious.
So let's go through this:
[1:29] - But the truth is Elliot (Rodger) was just a psychopath....and he was also a "Nice Guy"
I wasn't sure why this bothered me at first. What she's doing here is somewhat subtle, maybe because it's close to the beginning of the video. What she's doing here is taking a very isolated, low percentage thing, psycho guys who do violence toward women, and linking
every
man who expresses frustration with rejection and lack of sexual success. Heard of Social Proof? Well this is its ugly cousin. Because that one guy one time both expressed his anger/frustration and also shot a bunch of people (most of whom were male by the way) we need to treat every man who's frustrated by his lack of success as though he's a psycho-murderer too. Never mind that there are literally millions of frustrated dudes out there who have never and will never lash out this way.
[1:34] - So what is a "Nice Guy". A "Nice Guy" is not a nice guy. A "Nice Guy" thinks that being nice should automatically grant him all the bagina or peen that he wants.
I'd be interested to meet a person who fits this definition. I don't believe they exist....or at least are very few and far between. What she really means is that a "Nice Guy" is a guy who pursues a friendly relationship before announcing his romantic desire, and then is in anyway visually disappointed or frustrated when he gets shot down. Women don't smear men with the quoted "Nice Guy" label if they climb back in the friend-box and shut the fuck up. It's only the ones who push or completely withdraw that get smeared. Serve the feminine imperative or we'll attempt to shame you!
Nobody thinks that being nice entitles you to sex with any specific person. Nobody thinks "I was nice to June so she's obligated to fuck me" (okay, probably almost nobody thinks that). But what does happen is people think that they're entitled to find love and have sex
somewhere
and with
someone.
If a guy acts a little disappointed or angry, it's not really fair to put that on one specific girl, but it's not about that one specific girl. It's the frustration of being rejected not just by her, but the girl before her, and the girl before her and the girl before her.
It leaves me with a disturbed feeling. How can June, and the majority of women have such startling little empathy for men that they have to present the ability to feel an completely reasonable human emotion, disappointment / frustration as though it's some kind of character flaw that deserves to be labelled and derided?
[1:59] - You can't just insert the nice tokens and get sex in return.
This is especially annoying. I heard this exact same thing from a douchey male feminist in a youtube video 2 years ago. Nobody thinks this. They're literally just upset that they're getting rejected. I'm disappointed to hear Shoe quote it. Karen Straughn said it best in one of her videos. "If men felt
entitled
to women's bodies, why would they work so damned heard to try to
earn
access to them?"
[2:05] - Women especially.....I should know, I've been one for 26 years.
If you're 26 years old you've been an adult woman for 8 years or less. Unless we're considering 8 year old girls women now, and I for one don't want to open the door where that leads. Maybe I'm just being snide here, but it sounds like she's trying to make an appeal to authority while misrepresenting her experience to gain additional authority.
[2:16] - Being simply "nice" is not going to do much for you. You need something else. What are your hobbies? What are your interests? Do you play an instrument? Are you funny? So you gotta bring something more to the table than just basic-ass niceness.
This statement is completely true, but also completely disingenuous. Guys who use the foolish "friends first" or "i'll show her how great I am" dating strategy are usually not one-trick nice-ponies. They have hobbies and friends and family and a job and interests and many of them are probably funny too. They simply don't have what the specific girl they're trying to get with wants. Maybe it's looks or money or status or just some vague thing she'll call "chemistry" but the fact of the matter is that she's not interested in his specific set of interests, hobbies, family and friends.
But just because she's not interested in the combination of hobbies and interests and humor that he has, doesn't mean he doesn't have them. It's absurd to present the idea that any man who's disappointed by the amount of rejection he's faced has nothing going on but "niceness".
[3:04] - But anyway. Some socially awkward guys confuse confidence with being an asshole..........Women confuse being an asshole with confidence.
Sure, but the part you're leaving out here is that many women also confuse gentleness, kindness, compassion, and consideration with
weakness
and a lack of confidence.
[3:34] - Now I have dealt with "Nice Guy Rage" before.
Here she tells a story about a guy who bought her expensive gifts and then tried to guilt her when she didn't return his affections. That's manipulative and it's an asshole. What about that is nice? But "Nice Guy Rage"? If she thinks a little bit of guilting is rage than she'd be reduced to a quivering pile in the corner if she ever actually saw rage. The rage of men who've been constantly shamed and rejected isn't usually unleashed on women.....they usually reserve that for themselves and it's usually done in private.
[7:23] - And don't lie to yourself. You're not being turned down just for being nice. There are plenty of other reasons you're likeable.
This is really fucking weird and out of place. She just got done talking about the "friendzone". Which in it's most innocent form is just two people who actually like each other and one is romantically interested and one isn't. Somehow she makes not returning romantic feelings into "you're not likable". So which is it going to be? How can you simultaneously claim that it's completely reasonable to really appreciate someone's friendship while not being attracted to them sexually, but then turn around and say that not being interested in them sexually means that they were innately unlikable to begin with? Why would you value the friendship of someone who's unlikable?
I don't know. This video really disappointed me. I had hoped Shoe was deeper than this. But it seems when it comes down to it, things that inconvenience women or require them to simply be firm about their boundaries are much more serious problems than the things that men fucking kill themselves over. It can't be that
no
women have empathy for men or you wouldn't have Karen Straughns and Diana Davisons. But that's two. Two out of 3.5+ Billion is pretty fucking depressing.